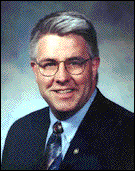 Lieutenant Steve Young was 49 years old and lived in Delaware.

01-09-2003

NAME:

Lieutenant Kermit Steven "Steve" Young was 49 years old and lived in Marion.

DIED:

Thursday, January 9, 2003 in the evening after battling cancer for several months at Riverside Methodist Hospital in Columbus.

PERSONAL INFORMATION:

Lieutenant Steve Young was born in Upper Sandusky to Ray and Lillian (Heffelfinger) Young. He graduated from Upper Sandusky High School. He was a member of the Christian Church and became National President of the F. O. P. in 2001 and served as National Vice President since 1987. He served as Ohio State President of the F. O. P. from 1988 untill 1999. Prior to his service as State President, he served as Vice President and Third District Trustee for the Ohio State Lodge and President of his local lodge, Marion County Lodge #24. He is an active law enforcement officer serving as a Lieutenant in the Marion City Police Department and is a graduate of the 185th Session of the FBI National Academy. In addition, Steve had been appointed to several state wide committees such as the Attorney General's Advisory Council, the Supreme Court's Committee on Drugs, Former governor Voinovich's Labor Advisory Committee and Governor Bob Taft's Unemployment Compensation Advisory Council. In June of 2002, President George W. Bush appointed Mr. Young to his Homeland Security Advisory Council and the Medal of Valor Review Board. He was very well known throughout Ohio and the country.

SURVIVED BY:

Lieutenant Steve Young is survived by his wife: Denise, 2 sons: Steven (Karen) Young of Monroe, Louisana, Staten Daniel of Scottsdale, Arizona, his mother: Lillian of Upper Sandusky, 3 sisters: Gloria (Howard) Steurer of Nevada, Kay (Cal) Baker of Toledo and Deborah Smith of Upper Sandusky and many nieces and nephews and great-nieces and nephews. He was preceded in death by his father: Ray and step-father: Harry Heffelfinger.

FUNERAL SERVICES:

Arrangements are being handled by Schoedinger Funeral Home, 6699 North High Street in Worthington. Funeral services will be Wednesday, January 15, 2003 at 10am at the Grace Brethren Church, 8225 Worthington-Galena Road, Columbus, Ohio. Burial will be in Old Mission Cemetery in Upper Sandusky, Ohio. The funeral procession will travel north on Route 23 to Waldo, where it will turn onto Route 423 and proceed into Marion and then on to Upper Sandusky. Friends may call Monday, January 13, 2003 from 7pm until 9pm and Tuesday, January 14, 2003 from 2pm until 4pm and 7pm until 9pm at the funeral home. There will be a F. O. P. service on Tuesday, January 14, 2003 at 7pm. In lieu of flowers, memorial contributions may be made to the American Cancer Society on Steve Young's behalf.